AnoChem TCP replaces hexavalent chromate conversion coatings used for aluminum alloys without sacrificing corrosion resistance, electrical contact resistance or organic topcoat adhesion properties while meeting regulatory requirements of RoHS, WEEE, and ELV legislation.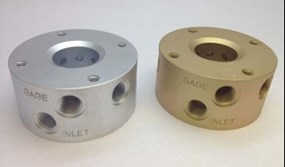 This 100% hexavalent-chromium free conversion coating exceeds the requirements of MIL-DTL-5541 and results in a harder, denser and more abrasion resistant finish than chromate coatings it replaces.
AnoChem TCP has a blue-bright finish without characteristic iridescent yellow color of chromate conversion coatings commonly referred to as Alodine® or Iridite® (1).
AnoChem TCP should be applied where conductivity, paintability or corrosion resistance are required on aluminum substrates. Organic coatings applied to AnoChem TCP pass the adhesion test ASTM D 3359, ISO 2409, and Method 631 of MIL-STD-141.
AnoChem TCP (left) has a clear, bright finish with blue iridescence and should not be mistaken that the part is untreated. Traditional hexavalent chromium (right) has its characteristic gold iridescence.
SPECIFICATIONS
❖ MIL-DTL-5541, Type II
❖ MIL-DTL-81706, Type II
❖ AMS 2473/ AMS 2477
❖ ASTM B921
❖ Numerous Corporate Specifications
CORROSION PERFORMANCE
❖ Aluminum alloys withstand 168 hours of salt spray per ASTM B117 or ISO 3768
❖ Outperforms conventional chromate coatings in corrosion resistance testing on high copper bearing aluminum alloys 2024 and 2019
❖ Corrosion resistant properties don't degrade upon exposure to temperatures above 140o F ELECTRICAL PROPERTIES MIL-DTL-5541 Class 3 – low electrical resistance requires specific electrical resistance to be maintained before and after an accelerated corrosion test*. Anoplate maintains its own in-house salt-spray test chamber and its own electric resistivity test equipment. These allow Anoplate to certify to AnoChem TCP coating for Class 3 applications.
  Electrical Contact Resistance [µΩ/in2]
Chemical Treatment
As Coated
After Salt
Spray*
AnoChem TCP
2,500
5,100
Hex Chromates
2,400
7,300