Proprietary Optical Blackening process for 6000 series aluminum
Technical Data Sheet - AnoBlack EC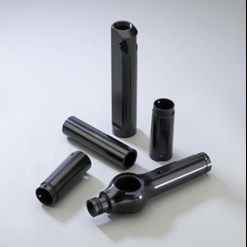 For parts that are sulfuric acid anodized, AnoBlack EC provides electrolytic blackening using inorganic metallic salts as opposed to organic dyes. The result: a 100% smut-free coating that will not fade under extremes of either light or temperature.
AnoBlack EC coating exceed the requirements of MIL-A-8625 Type II, Class 2 coatings. They have been approved by major aerospace OEMs for space vehicle applications where emissivity and high-temperature performance are critical.
 Key Advantages
No outgassing when compared to conventional Type II black anodize, or optical paints
Able to withstand extremes of temperature without color degradation
Able to withstand various cleaning agents and detergents without degradation
Unlike some optical paints, AnoBlack EC can be applied to exacting tolerances, meaning your assemblies will fit together afterward without issue
Flat optical performance throughout IR-Vis range – no peaks at certain wavelengths [see chart below]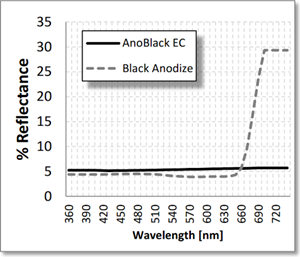 Technical Data
On 6000 series aluminum, AnoBlack EC will withstand 500°F [240°C] for 1 hour without any optical degradation.
Total normal emittance after 500°F bake is >0.90
RoHS Compliant
Key Applications
Optical applications using either ultraviolet or infrared light in which the black color must not bleach or fade
Medical devices that are subjected to heat and/or aggressive cleaning agents (such as peroxide) needed to ensure sterilization
Semiconductor manufacturing and other applications which require zero particulate generation
Any application where parts are subjected to intense light – such as space vehicle cooling units, external components, and light sinks.
Key Considerations
Anoplate's AnoBlack EC is only proven for 6000 series aluminum. Welded components should use identical welding rod material to ensure complete coverage of the AnoBlack EC coating.
Like all anodize coatings, this coating penetrates in to the surface and grows up from the original dimension. A dimensional change of 0.0002-0.0003" per surface is common for 6000 series alloys. Other alloys could see different dimensional growth than what is typical.
---
For questions about this process or if you would you like to discuss an application for AnoBlack EC? Contact Us Today.
CONTACT US ONLINE
  (315) 471-6143