AnoHard Cr is Anoplate's proprietary industrial, hard chrome deposit. AnoHard Cr deposits a micro-cracked, smooth and shiny deposit that is proven to reduce wear, friction, seizing and gall your un-coated components.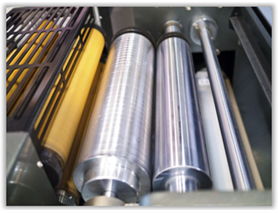 AnoHard Cr is typically specified for thicknesses in the range of 0.0002"-0.0006", but can easily be applied to thicknesses up to 0.100". For extreme wear applications, it is recommended for deposit thickness greater than 0.001" per surface but may require grinding afterward to get dimensions back to tolerance. It is important to note that hard chrome is not decorative chrome plating.
COEFFICIENT OF FRICTION*
AnoHard Cr has fantastic dry-lubrication properties. The coating shows a marked improvement in static and dynamic friction against dissimilar materials.  
 Coefficient of Friction
| | | |
| --- | --- | --- |
| Metal Combination | Static | Dynamic |
| Steel on Steel | 0.30 | 0.20 |
| Chrome on Steel | 0.17 | 0.16 |
*Ask Anoplate for technical citation
SPECIFICATIONS
❖ AMS 2460
❖ AMS-QQ-C-320
❖ AMS 2406
❖ ASTM B177
❖ ASTM B254
APPLICATIONS
❖ Engraving
❖ Forging Dies
❖ Injection Molds
❖ Hydraulic cylinders
❖ Crankshafts
COMPATIBLE BASE MATERIALS
❖ Steels and Stainless Steels
❖ Inconel, Monel, Invar, Kovar
❖ Aluminum
❖ Brass & Copper
RESISTANT TO
❖ Ammonia
❖ Hydrogen sulfide
❖ Beer
❖ Molten glass
❖ Milk
❖ Petroleum products
PHYSICAL PROPERTIES
| | |
| --- | --- |
| Hardness | 1000-1150 KHN100 |
| Micro-cracked structure | >1000 cracks/ inch |
| Visual | Bright, shiny and smooth |
| Wettability | Poor |