Combining the hardness of ceramic with fluoropolymer lubricity
Technical Data Sheet - AnoLube III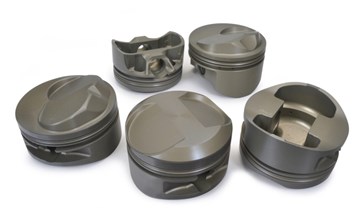 Anoplate's AnoLube III provides manufacturers with the low-weight and cost advantages of aluminum, the abrasion resistance of hardcoat anodize, and the lubricity of the latest fluoropolymer technology.
AnoLube III is a synergistic coating that utilizes the strengths of both coatings to provide a single coating system that is better than either of the two alone. The fluoropolymer penetrates in to the surface, so it will never chip, blister or peel from the hardcoat anodize.
AnoLube III utilizes a proprietary PTFE lubricant, its hydrophobicity rendering the coated part easily cleanable. Under this proprietary process, the specially-formulated fluoropolymer penetrates the surface of a precision-hardcoat anodized component. The result is a highly-corrosion resistant ceramic which exhibits dielectric properties superior to that of conventional hardcoat anodize. Additionally, the coating retains its non-stick, lowcoefficient of friction properties afforded it by PTFE. Anoplate has the capability and experience to mask off holes, recesses, tight-fits, or any other features that cannot receive the thickness afforded by AnoLube III.
Anolube III routinely exceeds 500 hours of neutral salt spray in accordance with ASTM B 117, and has a dry-friction coefficient against steel of 0.16.
Key Advantages
Low coefficient of friction, non-stick PTFE surface
Low wettability = easy clean-ability
Abrasion-resistant, "file hard" ceramic
Chemically-inert fluoropolymer impregnation
Corrosion-resistant anodize
High Dielectric Withstanding Voltage
Key Applications
Weaponry optics – provides lubricious, wearresistant coating for rotating and telescoping optical sight housings and dials
Automation equipment – paper printers and rollers, robotics and semiconductor assembly equipment
Pneumatic cylinders and valve spools – resists wear from contact with piston seals; PTFE permits use without additional wet lubricants
Pump components – resists erosion for liquids that may contain sand or other abrasive media
Plasma etching equipment – PTFE-sealed anodize protects the aluminum from erosion in the process
Specifications
AnoLube III meets and exceeds the requirements of the following specifications:
MIL-A-8625 Type III
MIL-A-63576 Class 1
AMS-2468
Other customer-developed specifications
Key Considerations
Anoplate's AnoLube III typically involves 0.002" (50 microns) of coating thickness. Because the anodize is grown from the aluminum substrate, roughly half of that coating thickness penetrates in to the original dimension, so the measurable dimensional change on a 2-mil coating is approximately 0.001".
Deposit hardness is impacted by the alloy used. AnoLube III can be applied to sand and die-cast alloys, but coating hardness, corrosion and wear resistance are best when the substrate is a wrought alloy.
While AnoLube III significantly improves the coefficient of friction versus the un-coated substrate, surface finish has an even more significant impact on slip performance.
---
For questions about this process or if you would you like to discuss an application for AnoLube III? Contact Us Today.
CONTACT US ONLINE
(315) 471-6143