Unique formulation of co-deposited electroless nickel with PTFE meeting AMS 2454
Technical Data Sheet - Enhanced PTFE  
Anoplate's ENhanced PTFE coatings offer the uniform deposition and hardness of electroless nickel, enhanced with the lubricity and release characteristics of a PTFE fluorocarbon.
ENhanced PTFE coatings are selected for their effectiveness in reducing downtime and extending equipment life, and for their ability to optimize process and equipment performance.
Unlike immersion or spray PTFE coatings which are have heavy and inconsistent thickness, Anoplate's ENhanced PTFE deposits uniformly on all surfaces and with controlled thickness. ENhanced PTFE evenly distributes the PTFE particles throughout the thickness of the coating, so the coating will perform consistently throughout its wear life.
Applications
Valves used in fluid delivery
Pump rotors
External fixation devices
Mold & die cores and cavities
Composite Molds and layout fixtures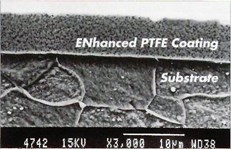 Advantages
Low-friction, self-lubricating, reduces galling
Excellent wear resistance
Outstanding corrosion resistance
Uniform coating thickness
Uniform distribution of PTFE lubricant
Press Coating Characterisitics
| | |
| --- | --- |
| ENhanced NT | Hardness as-deposited |
| ENhanced HT* | Thermally treated for maximum hardness |
*Deposit may have a blue-yellow tint after thermal treatment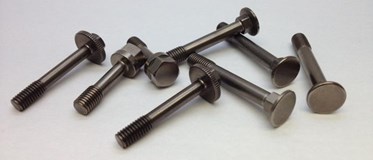 Physical Properties
Matrix Material

Amorphous Ni/P Alloy

Phosphorus Content
9-11% by Weight

PTFE Content
20-25% by Volume
7-9% by Weight
PTFE Particle Size
sub-micron
Hardness, ENhanced NT
250-350 HK100
Hardness, ENhanced HT
375-425 HK100
Coefficient of Friction
0.2 Max
Melting Point
1630°F ( 888°C )
PTFE Breakdown
572°F ( 300°C )
Electrical Resistivity
500 µΩ/in2
Corrosion Resistance*, SC6
>2,000 Hours
 *When tested per ASTM B117 with suitable undercoat
Key Considerations
Anoplate's ENhanced PTFE provides extended lubrication of moving, wear-prone, high-precision and inaccessible parts. It provides lubricity for parts exposed to solvents, working in cryogenic temperatures, or operating in environments with unconventional lubricants.
Durable, versatile ENhanced PTFE coatings can be applied to nearly any metallic substrate material. Coating thickness can range from 0.0001 – 0.0005". Depending on the application, Anoplate can apply thicker coatings using an electroless nickel underplate selected for extending performance conditions in severe applications.
ENhanced PTFE meets and exceeds the requirements of the following:
AMS 2454
Code T of MIL-DTL-38999
---
For questions about this process or if you would you like to discuss an application for Enhanced PTFE? Contact Us Today.
CONTACT US ONLINE
  (315) 471-6143