Hex-chrome free, RoHS Compliant, Chemical Conversion for Aluminum
Technical Data Sheet - AnoChem TCP    
AnoChem TCP replaces hexavalent chromate conversion coatings used for aluminum alloys without sacrificing corrosion resistance, electrical contact resistance or organic topcoat adhesion properties while meeting regulatory requirements of ROHS, WEEE and ELV legislation. This 100% hexavalent-chromium free conversion coating exceeds the requirements of MIL-DTL-5541, and results in a harder, denser and more abrasion resistant finish than chromate coatings it replaces. AnoChem TCP has a blue-bright finish without characteristic iridescent yellow color of chromate conversion coatings commonly referred to as Alodine® or Iridite® (1)
Typical Applications
AnoChem TCP should be applied where conductivity, paintability or corrosion resistance are required on aluminum substrates. AnoChem TCP is an excellent solution for the following applications:
Grounding paths for electronic components
Paintable surfaces for prime or dry-film lubricants
Tight-tolerance features
Organic Coating Adhesion
Organic coatings applied to AnoChem TCP pass the adhesion test ASTM D 3359, ISO 2409, and Method 6301 of MIL-STD-141.
Corrosion Performance
Aluminum alloys withstand 168 hours of salt spray per ASTM B117 or ISO 3768 without evidence of basis metal corrosion beyond the minimum permitted per specification
Exceeds the salt spray requirements of MILDTL-5541, MIL-DTL-81706 and AMS 2473
Outperforms conventional chromate coatings in corrosion resistance testing on high copper bearing aluminum alloys 2024 and 2019
Unlike chromate conversion coatings, corrosion resistant properties don't degrade
(1) Alodine is a trademark of Henkel, Madison Heights, MI; Iridite is a trademark of MacDermid, Waterbury, CT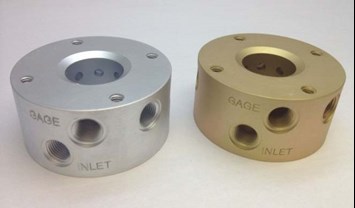 AnoChem TCP (left) has a clear, bright finish with a blue iridescence and should not be mistaken that the part is untreated. Traditional hexavalent chromium (right) has its characteristic gold iridescence.
Electrical Performance
Many companies that offer chemical conversion coating on aluminum either will not or cannot certify to MIL-DTL-5541 Class 3 – low electrical resistance which requires specific electrical resistance to be maintained before and after an accelerated corrosion test*. Anoplate, maintains its own inhouse salt-spray test chamber and its own electric resistivity test equipment. These, in conjunction with its superior cleaning process and statistical process control, have given Anoplate the edge with optimizing and being able to certify its AnoChem TCP coating for Class 3 applications.
Electrical Contact Resistance [µΩ/in2]

Chemical Treatement

As-Coated

After Salt Spray*

AnoChem TCP

2,500

5,100

Hex Chromates

2,400

7,300
*Tested to o168 hours IAW ASTM B117 per MIL-DTL-5541
Specifications
AnoChem TCP meets and exceeds the following requirements:
MIL-DTL-5541, Type II
MIL-DTL-81706, Type II
AMS 2473 / AMS 2477
ASTM B921
IBM Finishing Code 41-218A
Lucent WL-2156 Oxidized Aluminum #571
---
For questions about this process or if you would you like to discuss an application for AnoChem TCP? Contact Us Today.