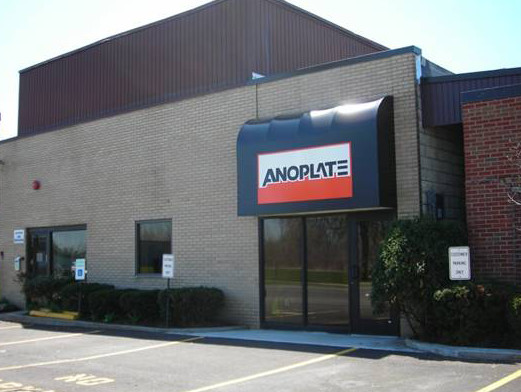 Anoplate was founded by Milt Stevenson, Sr., in 1960 to serve a growing need among what was then a very small, locally based machine shop and tool industry. Anoplate operates from a 104,000 square foot facility, single location in Central New York State.
Anoplate offers metal finishing services nationwide including plating of copper, nickel, chromium, zinc, silver, gold, cadmium and tin, various types of anodizing of light metals, conversion coatings such as passivating and phosphating, dry film lubrication, small lot painting, and vacuum impregnation.
Anoplate's reputation for quality and workmanship, diversity in process offered, and ability to meet rigid specifications has led it to serve a broad base of industries including aerospace, computers, defense, electronics, medical, optics, and recreation.
Anoplate's growth phase began in the early-70's. The firm's initial quality manual was issued in January of 1976 and growth accelerated throughout the 80's. Much of the new growth came from Fortune 500 firms and their suppliers who demanded more formalized quality systems and strict compliance with specification requirements.
As one of the largest and most respected metal finishing companies in the U.S., our 220+ employees are dedicated to the delivery of world class finishing services and products for our customers worldwide. Anoplate is proud to be NADCAP accredited and ISO 9001 certified. Our dedicated team of professionals and solid infrastructure position us for future growth with new solutions and new technologies. We welcome your metal finishing challenges!
Associations, Memberships & Affiliations:
National Tooling & Machining Association

National Association for Surface Finishing

American Society for Quality

International Hard Anodizing Association

ASTM International

ASM International

Society of Manufacturing Engineers

SAE International

Aerospace Industries Association
---
For questions or more information on any of our finishes and custom coatings, or to get started on selecting the right finishes for your project Contact Us Today.