Zinc-Nickel Alloy Deposit, Low Hydrogen Embrittlement (LHE)
Technical Data Sheet - Zynik II Plating Line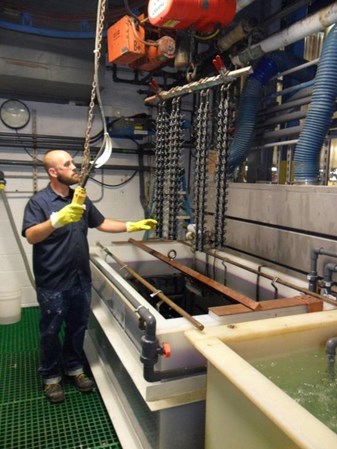 Zynik II Line Features
Hoist Capability up to 1 Ton
In-line ability to plate:

Alloy Steel
Hardened Steel
Stainless Steel

Off-line adjacent ability to plate:

Tungsten
Aluminum
Copper/ Brass

From → Small bearings for Rack Plating
To → Large landing gear shafts
Tank capability 28"W x 72"L x 43"D
Anoplate Solutions
Anoplate has provided quality metal finishing services to industry since 1960. As a partner in your design process, we understand the important aspect of surface engineering as it relates to: corrosion resistance, wear resistance, friction reduction, light reflection, joinability, aesthetics and surface preparation. Whether you have routine plating or complex finishing requirements, our staff can help devise a customized surface engineering solution suited to your particular application.
Our finishes include: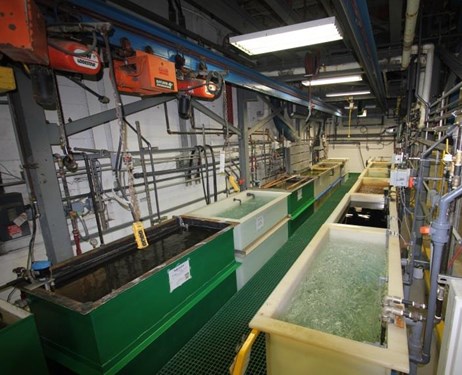 Anodizing
Hardcoat Anodizing
Black Chrome
Magnesium Treatments
Black Nickel
Nickel
Black Oxide
Passivating
Cadmium
Phosphating
Chromating
Silver
Chrome
Tin
Copper
Tin-Lead
Dry Film Lubricants
Titanium Anodizing
Electroless Nickel (EN)
Vacuum Impregnation
EN/PTFE Coatings
Zinc
Electropolishing
Zinc-Iron
Gold
Zinc-Nickel
---
For questions about this process or if you would you like to discuss an application for Zynik II Plating Line? Contact Us Today.
CONTACT US ONLINE
  (315) 471-6143