Technical Data Sheet - AnoBlack Cr    
One of a family of proprietary black coatings for optical and decorative use.
AnoBlack Cr is a wear-resistant black finish used in military, aerospace, automotive, and other applications where a deep black is desired. AnoBlack Cr coatings meet the requirements of MIL-C-14538 and of various industry specifications. Selected both for its functional and decorative properties, AnoBlack Cr is composed of a mixture of chrome and chrome oxides. The dendritic crystalline structure results in a porous deposit that permits absorption of oils and waxes used to enhance the coating's appearance. Where reduced light reflection is critical, AnoBlack Cr offers a 94% reduction compared to conventional chrome plating. For solar applications, the coating offers absorption values of 0.98 and infrared emissivity readings of 0.05. Thermal testing demonstrates that the stability and appearance of AnoBlack Cr coatings are unaffected by exposure to 900 F. The coating will gray slightly at 1100 F and will degrade and spall only at temperatures above 1300 F.
Features
Good wear resistance
High solar absorption
Good thermal stability
Low infared emissivity
Pleasing black cosmetic finish
Applications
Military night sights
Low light-reflectance components
Optical guidance system devices
Automotive buttons and knobs
Avionic Fasteners and controls
Medical diagnostic instruments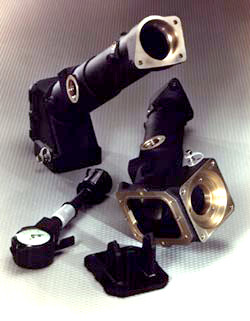 AnoBlack Cr provides low reflectance on internal components and a durable black finish on external surfaces of this military optical assembly.
If your substrate is Aluminum, check out our AnoBlack EC coating. Anoplate's two-step anodize (electrolytic coloring) for Medical, Optics and Aerospace applications.
---
For questions about this process or if you would you like to discuss an application for AnoBlack Cr? Contact Us Today.