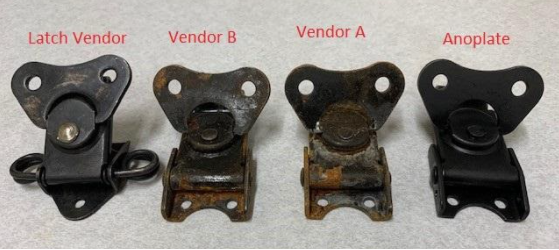 With some of its early roots in the optics world of nearby Rochester, Anoplate has been blackening parts for better than 60 years.
Cutting its teeth on such optic giants as Kodak, Bausch & Lomb, and Haloid what became Xerox), Anoplate was continually challenged to produce consistent, black finishes ranging from matte black anodize on carousel slide projector lenses to black zinc on die cast yokes used to affix carrying straps to cameras.
Today Anoplate is applying its AnoBlack Cr on aerospace coupling nuts for a machine shop in the United Kingdom to AnoBlack EC inorganic black anodize on a number of prominent space programs.
A customer recently shared their 96-hour salt spray results with Anoplate. When you're affixing an otherwise commercial-off-the-shelf latch to your multi-thousand dollar instrument case, one needs it to not only look nice but hold up to environmental exposure.
Not only that, it's a specification requirement to withstand 96 hours of salt spray exposure as well!  A picture is worth 1,000 words:  Anoplate's black oxide on a COTS stainless steel latch far exceeds the competition. So whether it's an otherwise inexpensive commercial fastening latch or a one-of-a-kind satellite component, Anoplate's surface engineering expertise, experience and capability outperform and outlast the competition.