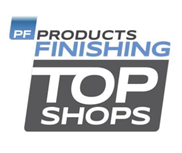 Products Finishing Magazine released the list of the Top Shops 2018 recognizing companies within the coating industry that exemplify the best finishing practices, most efficient procedures and sophisticated business operations. Anoplate Corporation made the list for the 4th consecutive year, becoming 1 of only 13 companies in the U.S. to receive this recognition since the inception of the award. Anoplate was the only company in New York State to make the list of Top Shops 2018.
"Being recognized as an industry leader is both humbling and fulfilling. We focus on the needs of our employees which allows them to meet the needs of our customers. This has been our basic guiding principle since my father, Milt Stevenson Sr. founded Anoplate in 1960." -Jim Stevenson, President and CEO Anoplate Corporation
The magazine conducted an extensive benchmarking survey that analyzed a company in several different areas, including Current Finishing Technology, Finishing Practices and Performances, Business Strategies and Performances, and Training and Human Resources.
Only the top 50 shops were given the honor of being a Products Finishing magazine 'Top Shop' based on a scoring matrix of those four criteria.
"Anoplate Corporation has established itself as one of the best finishing operations in the industry," said Tim Pennington, editor of Products Finishing magazine. "The criteria we used was very stringent, and only the finishing shops that excelled in all four areas made the list. Anoplate is in rare air when it comes to finishing operations."
Anoplate was founded by Milt Stevenson, Sr., in 1960 to serve a growing need among what was then a very small, locally based machine shop and tool industry. Anoplate offers metal finishing services including electroplating of copper, nickel, chromium, zinc, silver, gold, cadmium and tin, various types of anodizing of light metals, electroless nickel, conversion coatings such as passivating and phosphating, dry film lubrication, and vacuum impregnation.
Anoplate's reputation for quality and workmanship, diversity in process offered, and ability to meet rigid specifications has led it to serve a broad base of industries including aerospace, defense, electronics, medical, optics, and recreation.
As one of the largest and most respected metal finishing companies in the U.S., Anoplate's 220+ employees are dedicated to the delivery of world class finishing services and products for their customers worldwide. Anoplate is proud to be NADCAP accredited and ISO 9001 certified. Anoplate's dedicated team of professionals are a value-added partner to its customers; providing them with solutions to their metal finishing challenges and facilitating the pushing of boundaries on innovation.
# # #
If you would like more information about this topic, please contact Richard Kane (Vice President Human Resources and Organizational Development) at 315-471-6143 or email at [email protected].