What is Black Oxide?

Black oxide is a type of conversion coating that provides metals with a matte black appearance and dimensional stability. Black oxide can also provide corrosion resistance for equipment, gear or parts when the treated metal is oiled.

A conversion coating generally describes a coating process that is completed through a chemical or electrochemical treatment of a metal surface. Black oxide is not the only type of conversion coating; conversion coatings include phosphate and chromate conversion coatings, among others. 

To request a quote for black oxidize metal finishing...

Contact Us
Black Oxide for the Defense Industry & Commercial Firearms Manufacturers 
Black oxide is commonly used for firearms. For decades, Anoplate has been a trusted partner for firearms manufacturers, defense contractors and U.S. defense agencies. Anoplate holds a Federal Firearms License, granting legal permission to provide services for the manufacturing of firearms and ammunition in the United States. 

Anoplate's expanded facilities have increased our capabilities in fulfilling large orders for black oxide on firearms. When treated with oil or wax, our black oxide finishes serve as a mission-critical coating to ensure dependable, flawless functioning. 

Our black oxide finishing offers the following benefits:
A matte black appearance
Corrosion resistance to prevent jams
Dimensional stability to ensure your firearms satisfy applicable MIL specifications
A budget friendly finish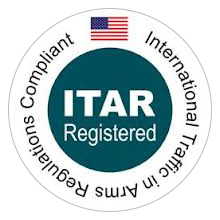 Anoplate is proud to be an ITAR compliant company. We're registered with the Department of State and Office of Defense Trade Controls Compliance. For generations, organizations have trusted Anoplate with sensitive documents. Our process is consistent with ITAR requirements and compliance. 

Learn more about our capabilities for the defense industry. 
What are the Benefits of Black Oxide?
Applying a black oxide finish offers many essential benefits to ensure smooth operations of equipment, devices, components and much more. 

Protection From Corrosion - When oiled or waxed, a black oxide finish helps to prevent corrosion. This protection from corrosion can be vital for error-free functioning, providing reliable and long lasting use.
A High Quality, Black Appearance - For discretion, essential functioning and more, sometimes your metal needs to feature a black appearance. Black oxide provides a high quality, black aesthetic at low production costs. Black oxide offers a durable way to make a metal black, avoiding chipping and other forms of corrosion that can occur from other blackening methods. 
Dimensional Stability - A black oxide finish is extremely thin, providing 10 millionths of an inch at maximum to the dimensions of your metal. This minuscule addition does not effectively change your metal's dimensions, providing the benefits of a black oxide finish while maintaining your intended function and appearance.
A Cost Conscious Solution - Black oxide provides all of the above benefits at a reduced expense, making black oxide a great solution for organizations that are working with tight or fixed budgets. 

Common Applications for Black Oxide
Black oxide is used in a variety of industries and applications. From providing the appearance and corrosion resistance needed on the battlefield, to essential functioning for medical and surgical tools and much more, black oxide is a versatile metal finish.
Common uses for black oxide include, but are certainly not limited to: 
Essential finishes for firearms, for both the defense industry and commercial markets
Precision tools
Machine components to ensure functional operation of mission critical equipment
and much more
Processes/Specifications
AMS 2485
MIL C 13924
MIL DTL 13924
For industrial metal finishing services to meet your needs with black oxide...

Request A Quote
Black Oxide Fasteners: Black Oxide Drill Bits, Black Oxide Screws & More 
Anoplate is experienced in providing a durable, black oxide finish for the commercial production of fasteners and related equipment. Whether you're looking to make black oxide drill bits, black oxide screws or other essential fasteners, Anoplate can deliver the results you need within your deadline. 

Anoplate can provide industrial metal finishing for black oxide drill bits and black oxide screws. Additionally, Anoplate is capable of providing a black oxide finish for other fasteners, such as a variety of nuts, washers and more. This black oxide finish provides the look, corrosion protection and smooth functioning that customers expect and you demand from high quality fasteners.
Black Oxide on Copper
Black oxide plating can be applied to things made from copper. Black oxide  on copper is only possible for metal surfaces that are 65% copper or more. Black oxide on copper is a durable solution that can assist in preventing corrosion for equipment, tools and machinery that are made from copper. Black oxide on copper also provides a smooth, black appearance. 
Common Uses for Black Oxide on Copper
Black oxide on copper is commonly used in aerospace applications, circuit boards and optical based applications to provide minimal light reflection.

Get Black Oxide on Copper
To complete your job with a black oxide on copper finish...
Request A QuoteBlack Oxide on Steel 
Standard black oxide is ideal for steel. Black oxide on steel features a chemical reaction that makes the benefits of a black oxide finish possible. 
Black Oxide on Stainless Steel
In addition to black oxide on steel, Anoplate is experienced in providing black oxide on stainless steel solutions. Black oxide on stainless steel is ideal for components that need corrosion resistance, a black appearance and minimal light reflection. 
Request A Quote For a Black Oxide Finish