Anoplate plays an important part in Protecting What Matters through the application of Trivalent Chromium Passivation (TCP) on high-quality aluminum parts in the aerospace industry.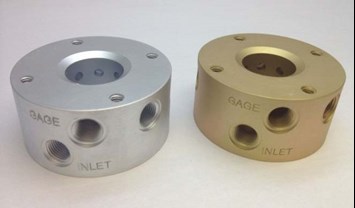 TCP is a low electrical resistivity conversion coating of the aluminum surface that can provide improved adhesion for paint applications and protection from corrosive environments. TCP is a hexavalent-free chem film conversion coating that is both RoHS and REACH compliant and conforms to the MIL spec for chem film (MIL-DTL-5541 Type II).
How Do You Optimize The Corrosion Protection Of The Tcp Coating?
Using the "less-is-more" approach, meaning that the "less" aggressive the pretreatment, the "more" corrosion protection.
How Can Surface Preparation Impact Corrosion Protection?
Before the TCP application, all surface contamination must be removed while limiting the impact on the aluminum to achieve the best performance. 
Aggressive cleaners and etches may effectively remove most residuals and aluminum dust. However, they pose a risk to the corrosion protection that TCP can provide. 
cleanliness of the part must be balanced with the protection of the aluminum through careful cleaning consideration, which leads to "less" aggressive chemistries to get "more" corrosion protection.  
However, the surface finisher has to respond to the condition of the part they receive, and sometimes "less" doesn't cut it. 
Tough surface residues that cannot be fully removed will result in the uneven and non-adherent coating. This causes costly rework, lost time, and a potential decrease in the protection of the part.
Machine shops can play a vital role in successfully applying the "less-is-more" approach by carefully considering lubricants, buffing compounds, and dust control.
What Can The Machine Shop Do To Help?  
Working with the surface finisher to select a lubricant that can be removed in the cleaning process. 
Not all lubricants are created equal, and some ingredients, such as paraffins, pose challenges during the cleaning and pretreatment process or require special cleaners.  
Limiting The Amount Of Lubricant Left On The Part
Small amounts of lubricant can help protect the part during shipping, but too much lubricant will be harder to remove.
Removing Buffing Compounds Prior To Shipping
Due to hardening and oxidizing tendencies, buffing compounds become more difficult to remove after +48 hours.
"Less-is-more" poses problems when faced with aluminum dust. 
The cleaning and pretreatment chemistries are selected to be gentle on aluminum, which holds true for aluminum dust. 
Less dust will ensure your parts get the best corrosion protection by eliminating the need for aggressive cleaning.  
Optimizing the corrosion protection of TCP requires a "less-is-more" approach. This makes it a difficult balancing act for the surface finisher when faced with stubborn surface contaminants. 
By partnering with the finisher, machine shops can help prevent rework and lost time and achieve maximum corrosion protection for their parts.